ATK Design Studios, LLC A Foodservice Design Company utilizes our proprietary process and years of experience to develop your commercial kitchen design. Our kitchen designs incorporate layers of information. Our team embraces the collaboration and coordination needed to combine and create your design. Here is just a small sample of some of the projects we have completed.
Kitchens
When it comes to designing kitchens, ATK Design Studios understand the importance of an efficient operation flow. Designing the layout from the chef's perspective. We take the time with every kitchen to analyze the workflow. Making sure there is a place for everything. Our team enjoys creating visuals to simulate storage locations and operational walk-throughs. Our experience with the culinary schools gives us insider knowledge to chef's in the making. We apply this insight to all our projects.
Coffee Bars
ATK Design Studios has a great deal of appreciation for coffee roasters and the artfulness to the products they produce. Every coffee roaster has their preferred equipment as well as preferences in flow to their daily operation. We make it a priority to obtain and implement this information.
The ATK Team are your go-to when it comes to space planning your coffee bar. We work through every inch of the space.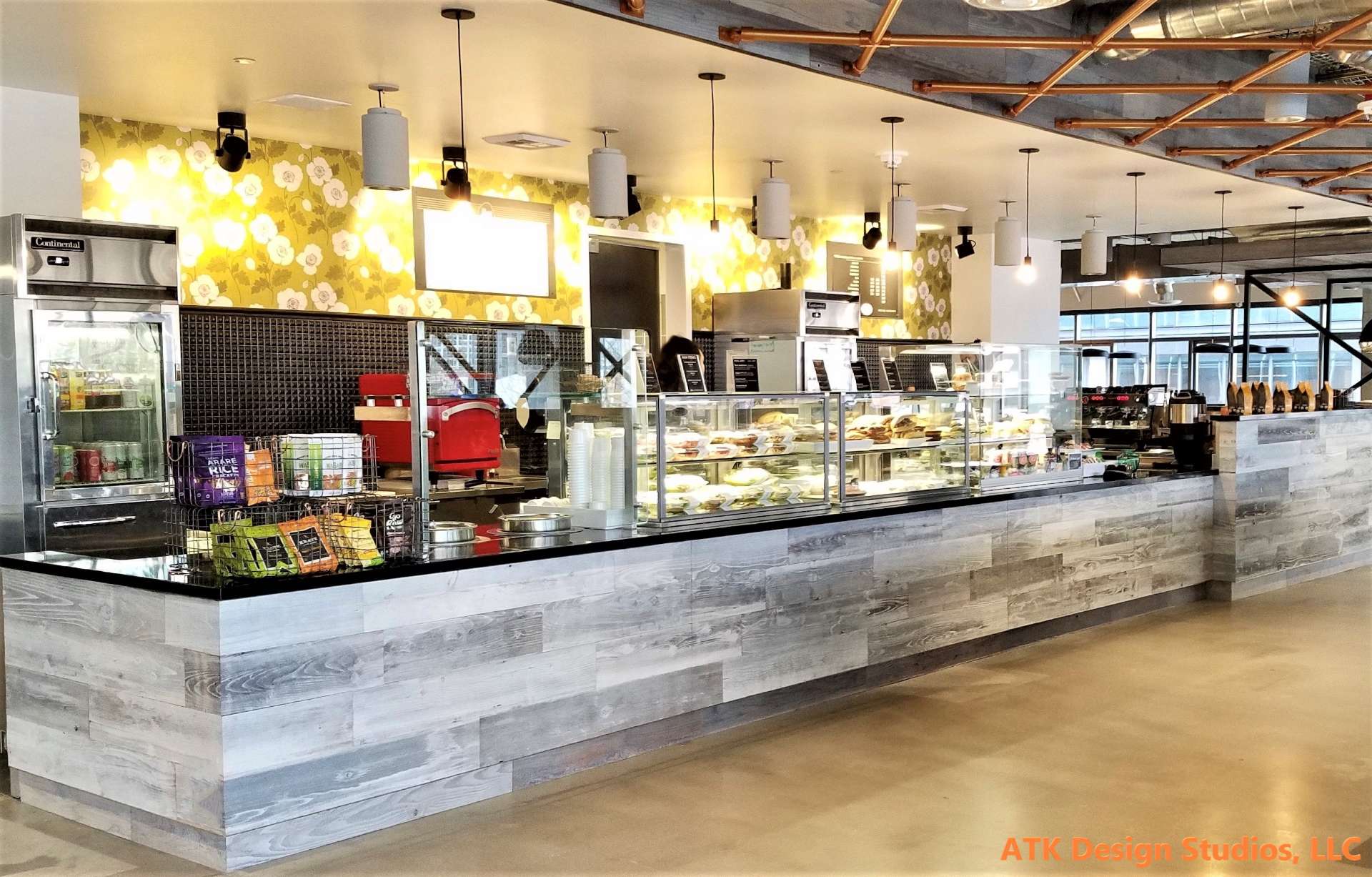 Café/Servery
Since our company's inception, we have been setting the standards in foodservice design. We set the standard then we improve and enhance it. ATK Design Studios is years ahead of the competition in both design as well as our design approach. The ATK Team and the ATK product pursue continual progression.
We develop and deliver state-of-the-art designs. Achieving the overarching goal in producing a café/servery that embraces the client's culture all while maintaining and blending the space in with the architects and interior designer's vision.
ATK Design Studios builds for flexibility. All our cafés/servery's are well thought out with the ability to rotate concepts and menu options. Our forward thinking administers essential cost savings to the client.
Markets
Grab and go markets offer customers the convenience of a variety of food options. First impressions are key to the purchase process and traffic flow. As interior designers by trait, we value look and feel. As foodservice designers we implement function. We are able to combine both skills to produce exactly what you're looking for. Our innovative and technical team goes beyond "random placement" of market equipment and cases. The ATK Team embraces the collaboration needed to blend form with function.
Culinary Teaching Kitchens
ATK Design Studios acknowledges the growth earned when designing culinary teaching kitchens. There is an intensity when working through a layout for a skills kitchen. Each project/skills kitchen begins with a stringent proprietary process, though unique unto itself, we apply to the foodservice industry. Here are just some of the items we recognize and examine:
Construction schedule typically short leaving a short time for design
Standards applied to each skills kitchen
What skill is being taught in this kitchen project?
Plan for each smallware to have a place to live.
Restaurants
Each restaurant is unique in its brand. Many restaurant owners and chefs are able to layout their kitchen. They know their process. The ATK Team can help to ensure:
The layout fits in the space.
The necessary documentation is produced and provided for mechanical, electrical and plumbing requirements.
The equipment you want is the equipment you get.
A liaison between you and the construction team.
Your layout passes health department.
Cocktail Bars
Our team is comprised of years of space planning experience and what requires more space planning than a cocktail bar. Our team knows what questions to ask. Laying out a cocktail bar requires strategy.
Every beer offered has it's signature glass.
What kinds of wines and how are they stored.
Exit and entry into the space and it's adjacency within overall space.